LØberen Skovmarathon - Information in English
We look forward t seeing you at the
next "Skovmaren"
(The LØBEREN Skovmarathon forest marathon)
- 5 November 2023.


RUN ON GOOD FOREST TRACKS IN THE colouful AUTUMN FOREST!
The race
The race takes place in St. Dyrehave forest just south of Hillerød. The race offers you a wonderful run on pleasant gravel roads. Hopefully you will sense the fine autumnal atmosphere in the forest.
Date:
Sunday, November 5, 2023. First start at 9:55 a.m. (2 km for children)
distances
We offer 5 distances:
SKOVMAR'EN (42,1950 km)
HALVMAR'EN (21,0975 km)
10-MAR'EN (10,0 km)
6-MAR'EN (6,2 km)
Children's course (2 km)
Click to see the three longest routes here.
Start and finish:
Start and finish is adjacent to the road Ovedrevsvejen in Hillerød East, between the roads Københavnsvej and Isterødvej. See Kraks page 65 D6. For GPS coordinates, follow this link.
Parking and toilets:
Parking areas are available at ATP, Kongens Vænge and Amtsgården (see the above link). The areas are situated approx. 1 km from start/finish. See map.
Please note that parking on the road Overdrevsvejen and in front of the grocery is strictly prohibited!
Toilets are found at the entry to the start/finish area.
Max. time:
As darkness comes early this time of year, a max. time of 5 hours has been set. Cut-off points will be at 21 km after 2 hours 30 min and at 35 km after 4 hours 15 min. Marathon runners who stop at 21 km, will get a time for the half marathon distance.
Registration:
You can register online from around April 1, 2023, but unfortunately it is not possible to make online payments with foreign credit or debit cards.
Contact us for other means of payment.
Online registration at normal fee closes on Saturday, October 28 at 11:59 p.m. A fee for late registration will be added to registrations made after October 28. Online registration will remain open until 31 October.
Late registration is also possible at the event centre on the event day between 8:00 and 10:00 (8:00 - 9:30 for the marathon distance). We recommend that you show up in ample time before the start.
Start packages including number bib and chip can be collected at the event centre from 8.00 a.m. for the Marathon distance and from 9.00 a.m for the other distances on Sunday, November 5, 2023.
Entry fees:
Prices:
Marathon DKK 330,-
Half Marathon DKK 290,-
10 km DKK 180,-
6km DKK 120,-
2km DKK 50,- (Children only. Parents are welcom to accompany their children at no extra fee.)
A fee of 50 DKK for late registration will be added to registrations made after October 31, except for the childrens course.

A demo orienteering course for children is available at no charge.
Results:
2023 results will appear here - and also allow you to download your diploma.
The list is in Danish, but you can still use the search fields above the list to find your result, by means of this mini-vocabulary:
The word "Køn" means "Sex" ("Herrer" = "Men", and "Damer" = "Women"), and the word "Klasse" means "Class".
Click the link "Diplom" next to your name in order to generate your diploma for printing.

Awards:
Medals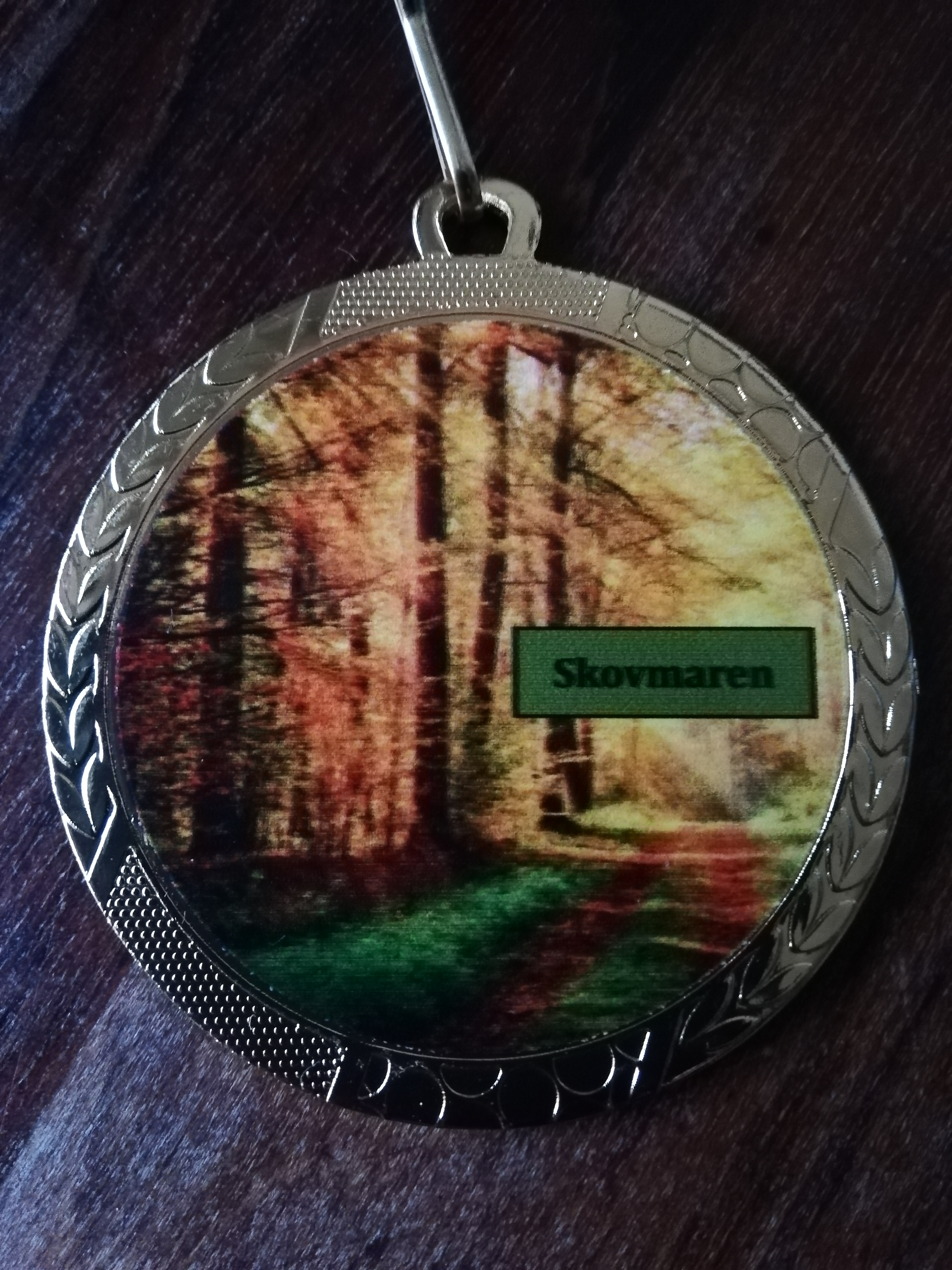 Medals will be awarded to all participants who complete the Marathon or the Half Marathon distance.
Raze winners
Prizes will be awarded to at least the three fastest male and female runners on all three distances.
Also, a number of minute prizes will be allotted. These will be notified by the speaker when the respective winners approach the finish line.
We are looking for new record breakers!
A money award is offered to the male and female runner, who sets a new record on the marathon and half marathon distances:
In 2023 the pool is:
SKOVMAR'en: Female DKK 2000,00/record 2.59.28
Male: DKK 2000,00/record 2.33.17
HALVMAR'en: Female DKK 2000,00/record 1.18.41
Male: DKK 300,00/record 1.08.47

Back to the top
Services at the event centre
Our cosy event centre in the forest offers bib pick-up, registration on the day, speaking, a well-stocked café, free orienteering course for children, and our sponser "Løberen" (whose name translates into "The Runner") will of course be there - and has special offers on the day. See them here in the week before the race. You can also see good offers here: https://www.loberen.dk/magasin.
Transport by train:
If you choose to go by train to Hillerød Station, we can recommend that you bring your bicycle on the train (possibly at no extra cost). From the train station it is a 2 km ride to the event center. See Google map.
Accommodation:
If you seek accommodation near the event, please see Visit Nordsjaelland's webpage. For example, Danhostel Hillerød is located less than 500 m from the event area.
COVID 19 PRECAUTIONS:
Should any covid restrictions reappear, we will of course follow all current recommendations from the public authorities and will do our utmost to ensure a safe and enjoyable event for you!

Contact
E-mail: info@skovmarathon.dk
We look forward to welcoming you to a wonderful day in the forest!
Copyright © Lřberen Skovmarathon